Interscholastic Climbing League
INTERSCHOLASTIC CLIMBING LEAGUE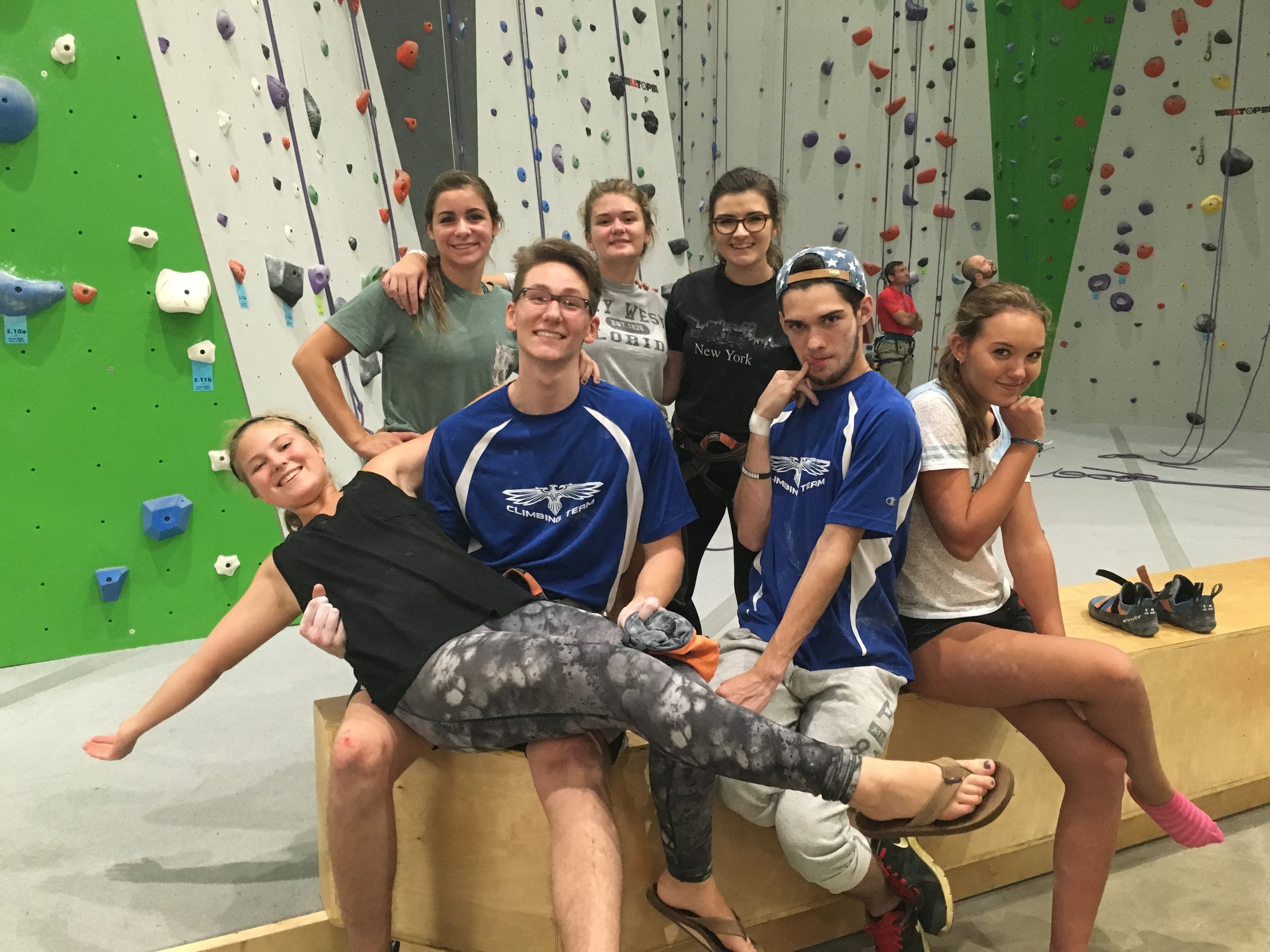 Climb up 50+ ft tall walls. Socialize. Get Strong. Compete. CHAllenge yourself. Be a part of the coolest club at your school.
what are you waiting for?
Do you want to learn more about how to start a climbing team at YOUR SCHOOL to be a part of our Interscholastic Climbing League?!
Are you a parent, teacher, or coach who is interested in being an adult leader for the league and wants to receive a FREE GYM MEMBERSHIP?
Please contact Program Manager, Mackenzie Wilder, for information on how to start a climbing league at your high school for the 2019 - 2020 school year.
INTERESTED? Come in on Sunday , September 29 th from 12 p.M to 3 P.M for more info and free climbing for 6th-12th graders!
Onsight Rock Gym's Interscholastic Climbing League is for students in grades 6 through 12. We are Knoxville's premier, full-sized, one hundred percent climber-built gym. Our facility offers 50+ foot high lead climbing walls and has a diverse layout of top roping, lead climbing, and bouldering. With more than 12,000 square feet of climbing surface, students will never run out of new routes and boulder problems to climb and practice on. We employ professional route setters who create fun and challenging climbs that cater to all levels of climbing (from 5.6 to 5.13). Our bouldering area features 15 foot high angled bouldering walls with over 18 inches of seamless padding to cushion falls. We also offer fitness and yoga classes weekly and have a climbing specific training area.
Purpose: The Interscholastic Climbing League is designed to introduce middle and high school age students to a team sport that emphasizes teamwork while fostering personal growth and the foundation for a healthy lifestyle. Climbing provides a fun physical challenge in a safe environment where students will be inspired to explore their personal best with the support of their teammates.
The lessons learned in rock climbing can and do apply to all other areas of life and can have a profound impact on the lives of your students! Climbing teaches discipline; it shows students how to self-monitor and will improve their overall confidence. Rock climbing also teaches team dynamics very effectively. Climbers quickly realize that, through the belay partner process and the encouragement/support factor, they have to trust and work cohesively with others if any significant goal is to be achieved. Consequently, climbing provides a positive avenue for overall self-improvement and character building! In addition, rock climbing has the potential to appeal to those fringe students who may not feel like they fit into other extra-curricular activities, or simply may not have the abilities or the skills to make it onto the mainstream sports teams, but still would benefit greatly from pursuing an athletic endeavor.
Details
2019 -2020 Season will run from September 29 to April 05

By joining the climbing league, you will receive a discounted membership to Onsight Rock Gym and commit to participating in 2 preliminary competitions scheduled throughout the season as well as the final competition at the end of the season.

Teams must maintain a minimum of 5 team members in order to register as an official team with the ICL League and be eligible for membership. We do have an Independent Team/ Homeschool Team for those who can not create their own.

Faculty Leaders are responsible for scheduling and supervising practices, maintaining minimum number of team members (and registering their team), and overall management of the team.

Practices are to be scheduled at the discretion of the Faculty Leader and Program Manager . Faculty Leaders are advised not to schedule practices during high traffic times at the gym such as Tuesday/Thursday evenings.
Membership
Students may purchase a Day Pass ($16) for individual practices OR purchase a discounted Prepaid 6-Month Gym ICL Membership for $299 with rental gear. This membership may not be frozen in order to extend membership. All ICL Memberships will end with the league on April 05. Participants who want to join after the league has begun may sign up at any time for a prorated amount.

All memberships will included rental gear.

In return for their hard work, each Faculty Leader will receive Free Membership for the duration of the league, and immediate family within their household will receive 50% off gym membership.

Membership includes one FREE Intro to Climbing Class for participants to learn how to top-rope belay. Faculty leaders will work with Mackenzie to schedule a class before the start of the season. After the season starts, students may register with Onsight for the class online or at the front desk. Students who are not currently belay certified at Onsight Rock Gym are advised to take the class and become certified for full participation in the league.

Additional advance climbing classes can be scheduled.
Climbing Competitions
To be determined. Will be the first or second Saturday of the month.
Championship will be determined in January. Students must come to one bouldering and one rope competition to be eligible for the championship
Team Trophy + Top Female and Male MVPs in each division will receive prizes

All Competitions are held on Saturdays

Competition Dates: will be determined based on school schedules and events within the gym

Fall Competitions will be rope based and Spring competitions will be bouldering based. Championship will be both rope and bouldering.